ARCTIC MX-4 20g – Performance Thermal Paste for all processors (CPU, GPU – PC, PS4, XBOX), high thermal conductivity, safe application, non-conductive, non-capacitive
ARCTIC MX-4 20g offers innovative solutions incessantly – changing impossible user requirements into new. Always focused on our customers, Arctic Thermal compound is devoted to deliver excellence through a strong dedication and a high sense of commitment. In light of the ever-changing consumer landscapes, we aspire to continue to expand and diversify our products and solutions. From computer cooling and peripherals to audio and digital home entertainment.
We strive to enrich people's lives by creating innovative, user friendly yet affordable products with a great value of benefit. For us value for money is a key factor – a constant our customers rely on.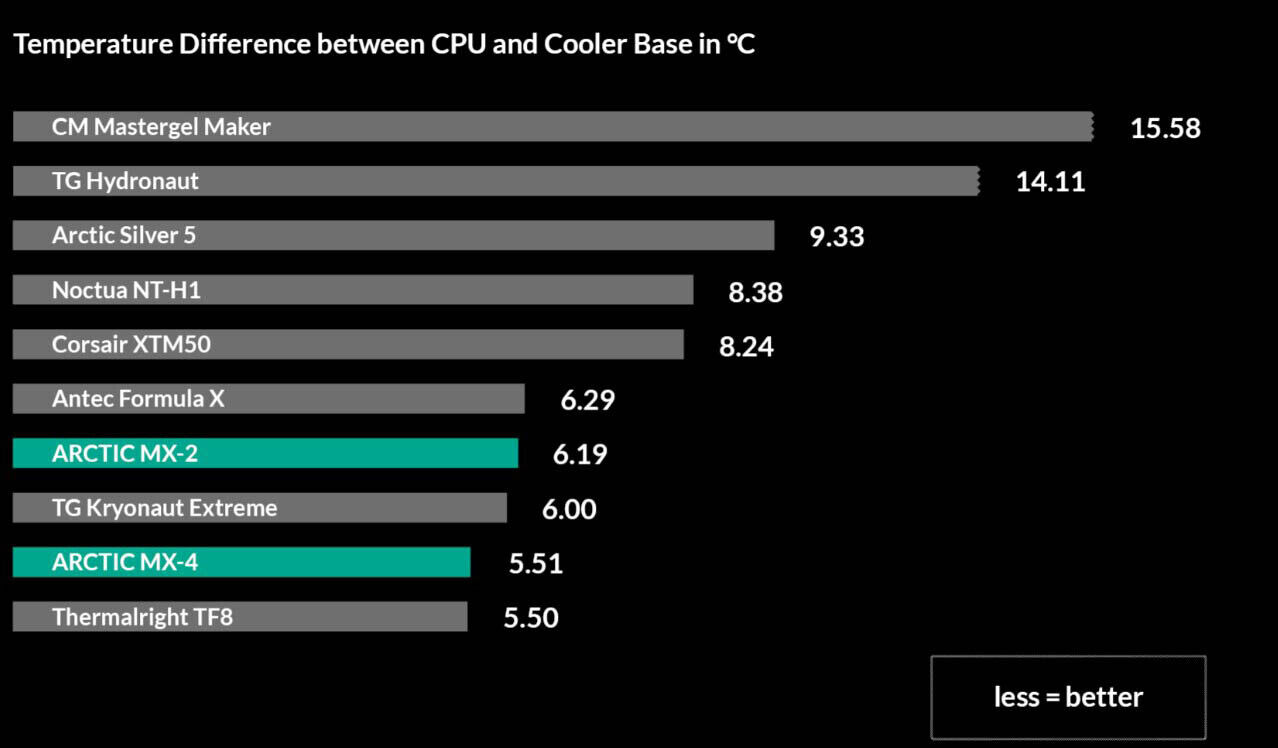 Since the mere thermal conductivity value cannot provide any information about the actual performance, we put our MX-4 thermal grease up against a broad field of competitors under laboratory conditions. The temperature difference between CPU and cooler base was measured
Features and further details
WELL PROVEN QUALITY: The design of our thermal paste packaging has changed several times, the formula of the composition has remained unchanged, so our MX pastes have stood for high quality
HIGH PERFORMANCE: With excellent temperature reduction performance, the  MX-4 is ideal for CPU and GPU cooling, and other applications between power semiconductor components and heatsinks
SAFE APPLICATION: The

ARCTICs MX-4 20g

 is metal-free and non-electrical conductive which eliminates any risks of causing short circuit, adding more protection to the CPU and VGA cards
HIGH DURABILITY: In contrast to metal and silicon thermal compound, the6 MX-4 does not compromise over time. Once applied, you do not need to apply it again as it will last at least for 8 years
EASY TO APPLY: With an ideal consistency, the MX-4 is very easy to use, even for beginners
EXCELLENT Arctic Thermal compound
ARCTIC MX-4 thermal paste is composed of carbon microparticles which fill these cavities. This creates a surface conducive to extremely high thermal conductivity, guaranteeing fast and efficient heat transfer from the CPU or GPU to the cooler. With its outstanding performance, MX-4 is one of the top thermal pastes on the market.
When it comes to durability, MX-4 is uncompromising – unlike metal or silicone paste. When applied properly, it has a shelf life of up to eight years.
Unlike with liquid metal or pastes containing metal oxide, you don't have to worry about short circuits when using our pastes. The MX-4 itself is not conductive, and using it will not cause corrosion damage.
When it comes to durability, Arctic Thermal compound MX-4 is uncompromising – unlike metal or silicone paste. When applied properly, it has a shelf life of up to eight years.
HIGHEST THERMAL CONDUCTIVITY